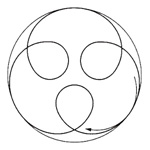 •Our Sankyu series has mixing motion that traces a hypocycloid curve like that shown above to ensure efficient mixing and kneading.
•Since the mixing path has a smaller angle of incidence for the moving circle (traced by the mixing blades) than for the stationary circle (the pot), the design is effective for use in applications such as kneading bean paste.
•These models can be combined with a range of application-specific pots, including copper-tin alloy kettles, gas boiling kettles, frying machines, steam kettles, and high-pressure steam kettles.